Book launch - The price of beauty. Eating disorders and their psychosocial implications - Alina Chiracu - Coordinator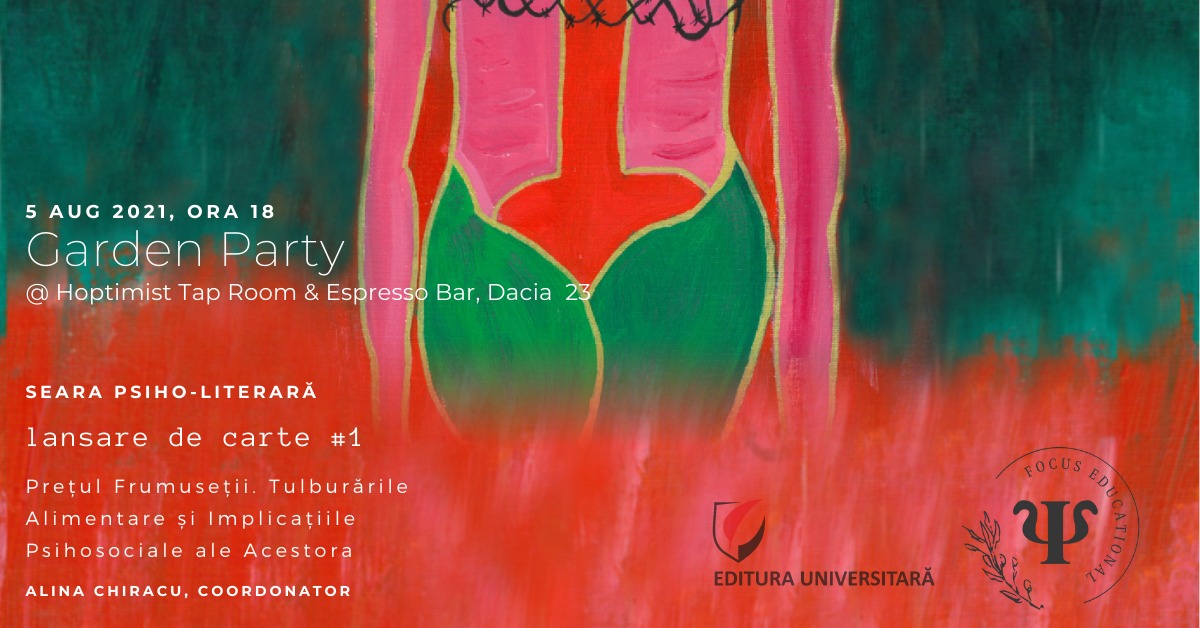 Thursday, August 5, 2021, from 6 pm, at Hoptimist Taproom and Espresso Bar, on bd. Dacia 23, the first book launch will take place in a series of at least 20 volumes on topics in psychology
You can find us at the garden party with fresh lemonade, cold prosecco and specialty coffee from 20 Grams Coffee Roasters, with casual attire, light holiday discussions or intense in-depth discussions.
The appearance of the volume would not have been possible without the financial support of the Focus Educational Association, for which reason, a fundraiser will be organized for the association, so that it will be possible in the future the appearance of the other volumes of the collection.
Whoever wants to take possession of a volume, can donate to the association's account an amount starting from 40 lei. The funds raised will be used for the publication of the following volumes, but especially for research activities in the field of education and especially of applied psychology.
Free entrance.
The title of this first volume is The Price of Beauty. Eating disorders and their psychosocial implications. The volume is coordinated by Alina Chiracu, doctor of psychology, clinical psychologist and psychotherapist, associate professor at the University of Bucharest. The book opens the collection Applied Psychology in Everyday Life and is published by the University Publishing House.
The volume represents a compilation of literary texts, personal opinions, theoretical aspects and scientific studies that address both specialists and students, as well as the general public. Teachers and students have contributed valuable chapters, each bringing in the book not only information of interest in the field, but also a great deal of effort, enthusiasm and joy to pass on to readers the idea of ​​beauty and the price with which it can be sometimes obtained.
The 20 volumes of the collection will appear over four years. Those who wish to obtain the entire collection or certain volumes from the collection, will receive a voucher that will contain the list of titles of all volumes. By completing the voucher, the reservation of the respective volumes is ensured and a price of 45 lei is maintained for each one, regardless of the evolution of the market.
The cover of the volume is made by Andrei Bobariu, student-artist or artist-student, and each small detail of the image has a special symbolism, which we invite you to decipher before or after you go through the lines of the book.
We are waiting for you with great pleasure to spend together a psycho-literary evening, the first in a very long series.